PPC Management Tips – How to Best Use PPC
Pay-Per-Click Marketing or PPC is a way of utilizing search engine advertising to create traffic to the website, instead of getting them through organic methods.
The sponsored ads that are seen at the top of search engine results page of Google are known as pay per click advertising or Google Adwords PPC.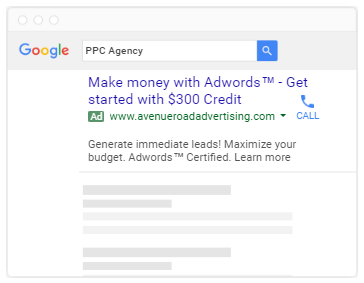 PPC ad example on a desktop device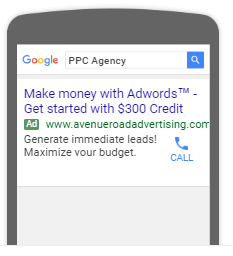 PPC ad example on a  mobile device
Expert PPC management is important to ensure that the campaign is able to achieve its potential.
Advertisers know how competitive the PPC market is, and know that having an expert management team running their campaign can make the difference between a great ROI or just wasted time and money.
This is the reason businesses need to know what PPC is all about.
PPC Management Best Practices
Once a PPC campaign is created, there is a need to manage them on a regular basis to ensure that they are effective.
Regular account activity is one of the indicators of success. Some of the analytics most relevant to a PPC campaign include Clicks, Impressions, CPC (Cost Per Click) and Conversions. The most important metric is Conversions.  By taking your cost spent on PPC for the duration of the campaign and dividing it by the number of Conversions, you can determine your cost per conversion.
The performance of the account must be analyzed continuously, and adjusted to optimize your PPC campaign.
Some reasons PPC Campaigns do not succeed include:
Running ads on various social media websites without establishing a solid presence first.
No strategy for their PPC campaign.
Campaign ads go only to the website Home Page.
Wrong PPC platform chosen.
Improper analysis of metrics, resulting in a higher cost per click rate.
One of the PPC best practices is to choose the advertising platform wisely. One needs to research about Google, Bing, and Facebook PPC.
Beginners think of keywords and match types – such as exact matches and broad matches – when they think of targeting. But according to PPC experts, a campaign is not complete without device targeting, day of week segmenting, time of day segmenting, and geo targeting. These factors are needed in order to maximize the PPC campaign.
Ad copy and ads are required to be polished from time to time. In some cases ads are deleted, re-worded or strengthened depending on your ongoing testing process.
PPC best practices dictate that there should be two ads running for every ad group in order to have an A/B testing analysis on their performance. If you are a beginner, then you should let an ARA PPC professional to do the analysis for you.
Another PPC best practice is to create a good landing page. It will play an important role in the Quality Score. It is important that the landing page is relevant to the keywords, and at the same time provide a good user experience to the visitors.
PPC Advertising Should Not Be A Gamble
If you want to reduce the risk with regards to your PPC campaign, then you should consult with a PPC expert. Starting a PPC campaign is a great action to get immediate online reaches for your service or product, but what's important is that you are able to optimize it over time. For an optimal campaign right from the start, you should consider employing the services of Avenue Road Advertising.
ARA professionals can assist you with copywriting, landing pages, ad creation, keyword research, analyzing and monitoring your costs per click and conversions.  This service includes an ongoing optimization of your PPC Campaign. Read more about ARA Professional PPC Management Services here.
The ARA PPC team have the skills and experience to serve clients belonging to various industries. Contact us today to learn more about how this service can help your business.