We were very proud to sponsor Youth Day Toronto 2016 by providing free custom t-shirts to volunteers, for their 10th anniversary event.
About Youth Day Toronto
Youth Day is a free annual festival celebrating the positive artistic achievements of young people. Held in downtown Toronto at Yonge-Dundas Square, the event features 12 hours of non-stop performances. Youth get the chance to showcase their music, dance, art, photography, fashion and film in front of some 35,000 visitors. It is managed as a non-profit event by dedicated volunteers choosing to make a difference for our next generation.
Leading up to the July celebration, young artists and performers participate in auditions, press conferences, team meetings, fundraising events, promotional video shoots, media interviews and additional opportunities that allow them to develop their skills, stay active and stay connected in order to pursue their artistic dreams.
The event opens with an official Flag Parade and includes a 6 o' clock Moment of Silence in memory of youth lost to violence.
Custom T-shirts Provided
100 custom t-shirts were designed and produced for volunteers of Youth Day.
These free t-shirts also promoted TY Points, a reward system for youth to help promote positive behaviour and build self-esteem by giving back to their community. Youth can earn valuable points which they can then redeem for products and services.
How To Get Involved in Youth Day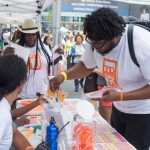 If you're interested in volunteering at Youth Day Toronto, click here to register on their site for this incredible opportunity.
Also, check out Yonge-Dundas Square for other upcoming events.
Want Your Own Custom T-shirts?
We have been professionals in print advertising, producing great print ads for individuals and their companies since 1993.
You may be wondering, "How much does it cost to print t shirts?" Contact us to get a quote for your own print ads on a wide selection of promotional items for your company (or special event).